The shores of Lake Worthersee in Germany are once again playing host to the world's largest gathering of Volkswagen and VW Group cars, and as with most years, Volkswagen has let its apprentices loose to build cars specially for the event.
The two concepts, which took the apprentices nine months to build, target opposite ends of the market. The first is called the Golf GTI Next Level and is unsurprisingly based on the iconic Golf GTI.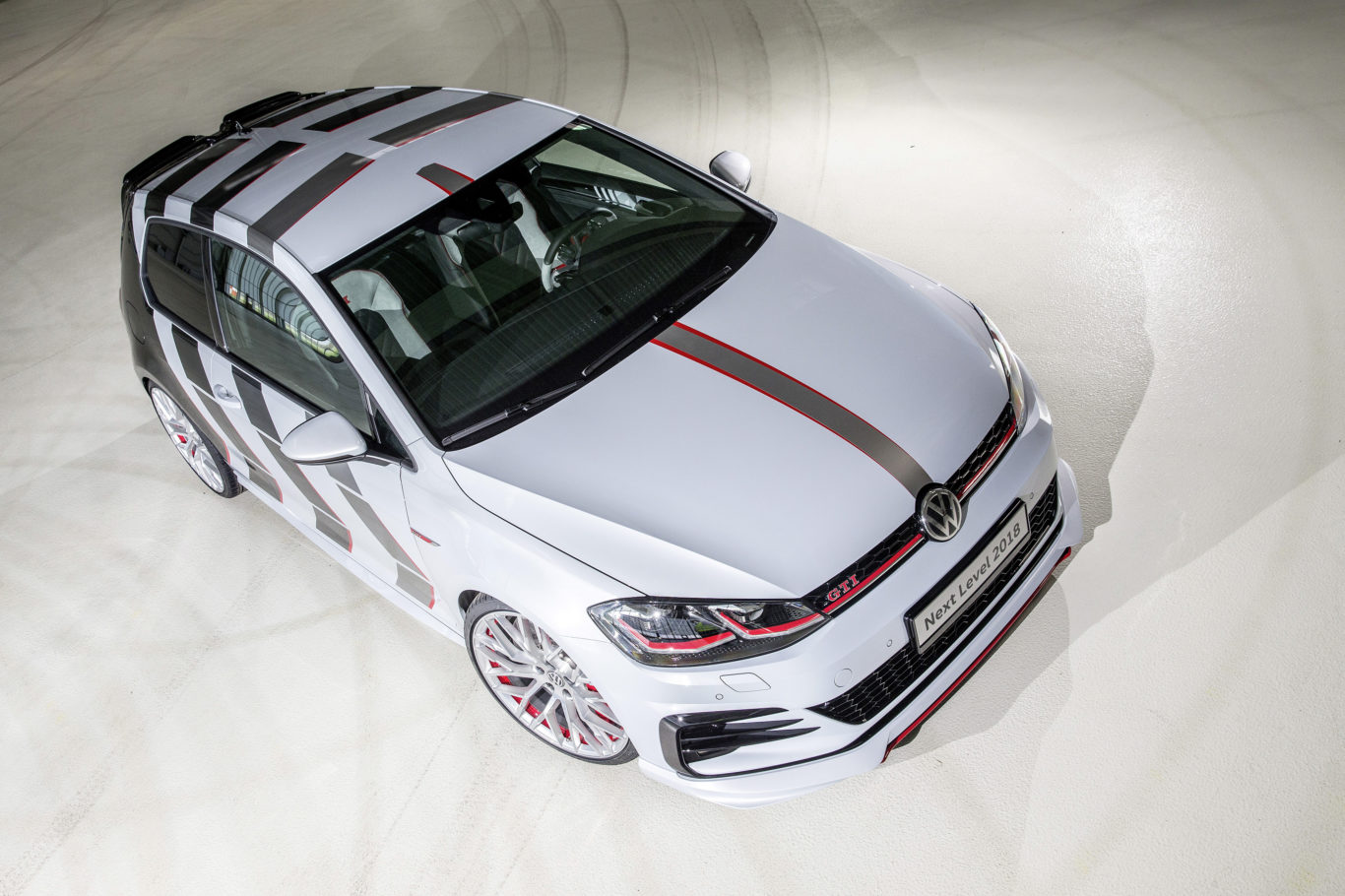 The Next Level features two-tone exterior graphics atop an official VW body kit. It's been lowered courtesy of Bilstein coilovers and rides on 20-inch forged aluminium alloy wheels pinched from an Audi R8 supercar.
The two-tone theme continues inside, where the seats and wheel are all finished in black nappa leather and grey Alcantara. That only applies to the front seats, though – the rears have been torn out but unlike hardcore special editions such as the Clubsport S, it's not in the name of performance.
Instead, the rear of the car plays host to a massive entertainment system. A 2,480 watt audio system sits within custom 3D-printed housings and there's a slide-out monitor which can be used to play video games.
Under the bonnet sits VW's turbocharged 2.0-litre four-cylinder engine, but it's been rather upgraded from the standard GTI. Forged pistons, an uprated turbocharger, a larger intercooler and a bespoke exhaust system endow the Next Level with an impressive 405bhp, though there's no word on what this has done for performance figures.
The second model created by the apprentices is rather more 'lifestyle'. It's called the TGI GMotion, and runs a natural-gas powered engine which produces 129bhp.
That's paired to a seven-speed DSG gearbox and all-wheel drive, and it's wrapped up in the bodywork from the rugged Golf AllTrack with added underbody cladding for even more off-road ability.
A combination of matte and gloss detailing plus a roof box completes the exterior, while inside sees sports seats, red stitching and a fold-out seat in the boot which allows passengers to sit at a custom-made table.
Unsurprisingly, neither of these vehicles are set for production – but we do hope the apprentices had fun creating them.
MORE: BMW to recall 312,000 UK models at risk of electrical fault linked to death crash
MORE: JLR opens first classic centre outside the UK
MORE: BMW M3 owner buys OEM clutch but gets F1 unit instead
On CarDealerMagazine.co.uk: Get back to basics, learn how to spot a lemon and list stock like a pro with Car Sales 101 at CDX 2018